The History of Hazlet Pharmacy
Hazlet Pharmacy was founded in October 1959, in an 1,800 square foot storefront on the corner of Bethany Road and Hazlet Ave, by our father, Anthony Jackapino. It became the first Pharmacy in Hazlet. Back then, the area was somewhat less populated and Dad spent many summer weekends sitting in a lounge chair in the parking lot waiting to see a car go by on Bethany Road!
Well over the years, the area has grown, and we have grown with it. In 1970, Dad realized that he could no longer continue to offer all the needed services to the community in his small store, so he enlarged to 3500 square feet. This seemed like more than enough to serve our growing community. However, in 2004, we once again found our location too small to continue to adequately serve our customers.
After many unsuccessful attempts to either enlarge our store at our previous location, or purchase the property from our landlords to ensure our future there, we were forced to move elsewhere to enlarge. Our current location is a 6,500 square foot store in a brand new building on Highway 35 South. We are across from Costco and next to the Hazlet Holiday Inn, just south of Bethany Road.
We have completely modernized and expanded our Pharmacy and Gift Departments, which will give us the ability to handle all of our customer's needs well into the future. We also added a full line of Medical Equipment and supplies to help our community gain greater access to all types of Home Healthcare products. This Department is run by Steve Schenk who has over 25 years of experience in Medical Equipment.
We spent countless hours designing this store to best serve you, and hope that you will come visit us at this location. It has been our loyal customers and friends such as yourself, who that enabled our business to grow, and it is for you that we have worked so hard to create this store.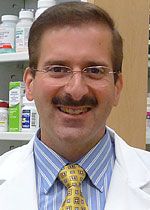 Jerry Jackapino
Born and raised in Holmdel, Jerry is a second generation Pharmacist. Following in his father's footsteps, Jerry has been a part of Hazlet Pharmacy since he was a young child. He graduated from Philadelphia College of Pharmacy and Science in 1991, as a member of the Rho Chi Pharmacy Honor Society. He began working as a Pharmacist for Hazlet Pharmacy in 1991. He is our Pharmacist-in-charge, and the President of Hazlet Pharmacy. He is a preceptor for both Philadelphia College of Pharmacy, and Rutgers University, teaching both 3rd and 6th year pharmacy students in the Community Pharmacy Rotations as part of their curriculum. He maintains licenses in New Jersey as a Pharmacist, and as an Immunizer to administer Vaccines. He has 3 children.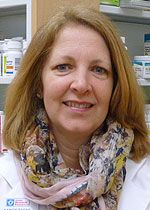 Nancy Tages
Nancy was born and raised in Carteret, New Jersey. She graduated from Rutgers College of Pharmacy in 1985, Magna Cum Laude, and President of the Rho Chi Pharmacy Honor Society. Nancy moved to Holmdel in 1996. Her previous positions were at Drug Fair and Medicine Shoppe before joining Hazlet Pharmacy in 2003. Nancy became our first Immunizing Pharmacist in July 2010 and is also certified to fit Diabetic Shoes. Nancy is married to her husband Jose, also a Pharmacist, and has 4 wonderful children.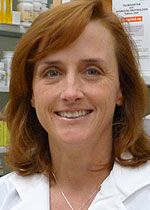 Linda Valazza
Linda grew up in York, Pennsylvania before attending Pharmacy school at Rutgers University. She graduated from Rutgers in 1992, Summa Cum Laude and a member of the Rho Chi Pharmacy Honor Society. She stayed in New Jersey after graduation working as a Pharmacist for Thrift Drug in Shrewsbury. She worked there for 4 years, holding the positions of Store Manager, and Staff Supervisor. She joined Hazlet Pharmacy in 1997, and has been a valued employee and a compassionate Pharmacist to all of our customers over the years. She is a Licensed Pharmacist in the state of New Jersey. She currently resides in Matawan and is married with 4 children.